Walt Disney World
\ Disney Hawaii Resort
well between the military and the people on that island I hope they can pull it off. If they want to do Disney with Hawai'i they should just go to the Polynesian hotel for that or just stay at one of the hotels on Waikiki beach and for Military personal can stay at the Hale Koa Hotel right there on the beach. Could you let me know what the point of building this one since they could set up the Vacation club members at all these other ones that are already there. I don't mean to put Disney down but Oahu, HI already have enough hotel as it is. From my understanding the land has been purchased and the initial phases like prep-ing the site have begun.
Personally, I think this is going to be tied in with one of the new Cruise Ships when both are up. I know that the Europe and Panama Canal voyages have gone over very well. This could be a great itinerary from Disney Land to Hawaii. I don't see it happening but it may also be possible to have a trip or two over to the Asian market (Tokyo & Hong Kong Disneyland). My guess is that if they did this is would be a one or two trip a year voyage. Just my thoughts and who knows what will happen when that all comes out.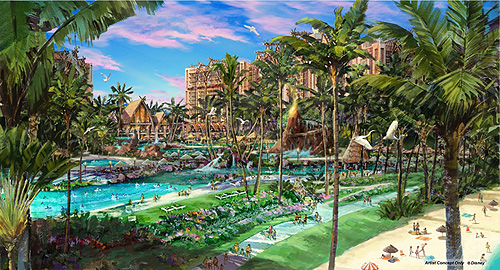 Expected to open in 2011, Disney is planning to turn 21 acres of oceanfront property on the island of Oahu into an 800-room luxury hotel complex. The property has been reported to have been purchased for $141 Million in 2007.
"This resort hotel will give our guests another way to visit an exciting part of the world with a brand they trust," said Jay Rasulo, chairman of Walt Disney Parks & Resorts.
Mr Rasulo said that Hawaii was one of the most requested destinations by the 350,000 members of its Vacation Club.
From the sounds of this it looks like Disney realized there was a market in Hawaii with their DVC members. No word yet if this will be a DVC or traditional Resort or a mix.
contribute to this page
last updated: 10/4/2007